Back in mid-April I published an article outlining a number of compelling reasons to expect a new super-cycle in dry bulk freight rates. Since then the Baltic Dry Index (BDI) has increased by almost 30% to 2,944. The index had previously increased to a high of 3,265 in early May, and after a brief correction the BDI has continued to rise since the beginning of June.
Freight futures are signaling that higher rates are here to stay with futures indicating the BDI could average around 3,500 over the next 6 months. Over the past two decades the BDI has only spent 16% of the time over 3,500, all of it during the boom period between 2003 and 2008.
In this article, I return to some of the factors I touched on in the original article – Brazilian iron ore and grain exports, port congestion reducing short-term available, and the prospects for a longer-term dry bulk supply response.
Brazilian iron ore exports rebound
According to Joakim Hannisdahl from ship-broker Cleaves, extrapolating Brazilian iron ore export data for the first half of June indicates exports could reach 38 million tonnes (Mt) for the whole month. If that is achieved it would be the highest monthly export volume since January 2019. In late January 2019 the Brumadinho tailings dam collapsed killing 270 people. Brazilian iron ore exports fell sharply during subsequent months, and although they rebounded in late summer 2020 they have since dropped back again only to see a resurgence over the past one to two months.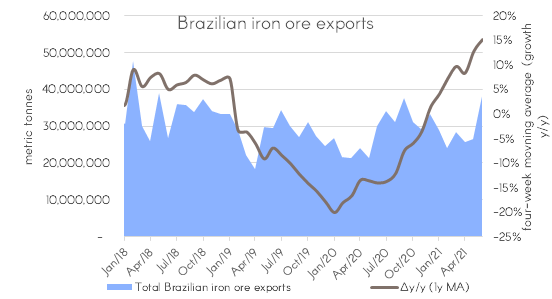 Brazilian iron ore giant Vale, whose dam it was that collapsed, was forced to curtail production from their planned output of 400 Mt to 300 Mt during 2019 and again in 2020. In a recent interview the CEO of Vale indicated that they plan to get back to a capacity of 400 Mt by the end of 2022. However, only last week, Vale was forced to stop production at its Timbopeba mine and part of its Alegria mine after prosecutors ordered the evacuation of an area around the nearby Xingu dam, in the state of Minas Gerais. The closures will reduce output of iron ore by 40 thousand tonnes per day. Although the closure is only expected to be temporary it illustrates the challenges the mining company still faces. On a positive note, the extremely dry weather in Brazil is a tailwind for Vale eager to increase output to benefit from high iron ore prices.
Drought conditions in Brazil a risk for grain and oil-seed exports
The dry weather is a big negative for the country's farmers though. Large parts of Brazil's growing region have received less than half of their normal rainfall. The latest USDA estimates for Brazil's total corn production during 2020-21 show output expectations continue to decline to 98.5 Mt, down from 102 Mt previously.
The poor crop expectations don't necessarily mean that exports will hit. Indeed while there may be shortages of corn domestically, grain exports are likely to continue to be relatively strong as strong export demand diverts the crop to whoever pays the highest price.
Furthermore, should rains return to Brazil over the next couple of weeks then the corn crop estimates could easily start to reverse to the upside, in turn bringing even more export availability.
Port congestion in China cuts available dry bulk supply
Port congestion in the South China Sea following a Covid-19 outbreak at Yantian Port in eastern Shenzen in late May means disruption to trade has now surpassed March's Suez Canal blockage. Yantian is responsible for one quarter of China's trade with the US.
The absence of a tiny digger trying to excavate one of the world's largest containership's means this story is not getting any media coverage. Unlike the Suez Canal blockage the latest congestion is also disrupting the flow of dry bulk ships (carrying iron ore, coal, etc.) into China.
Congestion means a cut in dry bulk availability as vessels must wait longer before they are cleared to dock, but that also means it takes longer to fulfill their next delivery, which then spills over until further delays. Commodity producers eager to capitalise on high prices are forced into paying higher freight rates for any dry bulk tonnage they can get their hands on.
Dry bulk vessel purchases indicate confidence, but hopefully not too much
A trend appears to be developing whereby containership owners are buying dry bulk ships to diversify their asset base and benefit from high dry bulk rates. In the past few weeks Greek owner Costamare announced that they had bought 16 bulkers currently operating in the spot market (we don't know who is selling). This continues a trend set by fellow Greek shipping company, Navios Maritime. Nevertheless, it's always worth asking what's motivating the other side of the trade. If the outlook for dry bulk rates is so good then why are they selling? It maybe that the values are a premium to the current market, or it might reflect a lack of confidence in demand side of the story.
The purchase of second hand vessels by Costamare and others probably reflects uncertainty over carbon regulations. In the run-up to recent meetings of the International Maritime Organisation (IMO), taking place 10-17 June, the CEO of Maersk Line, the world's largest containers shipping company proposed a carbon tax on ship fuel of at least $450 per Mt fuel (equating to $150 per Mt of CO2), in order to bridge the gap between fossil fuels and costlier greener alternatives. However, indications so far suggest the group are unlikely to deliver much more than minimal additional climate targets for the sector. The lack of any clear signal means that the second hand vessel market is likely to continue to see strong demand, rather than risk new builds that fail to meet potentially stricter environmental regulations in the future.
In contrast, Norway's Tor Olav Trøim confirmed they plan to purchase 12 new dry bulk ships. Ordering new ships is fine but if that overwhelms the demand for ships then the outlook for dry bulk freight rates starts to look very poor indeed. The shipping industry has been notorious for going through a boom-bust cycle, and that's clearly something investors want to avoid. Trøim has a long history with dry bulk shipping and should knows the risks. Discussing the current supply and demand situation in dry cargo, he told Finnish newspaper Finansavisen, "This is very reminiscent of the structural upswing we saw in shipping between 2003 and 2008."
Related article: The start of a dry bulk super-cycle?
(Visited 209 times, 33 visits today)