Li Keqiang – now Chinese premier, but previously known as the head of Liaoning province's communist party – admitted over dinner with the US ambassador to China in 2007 that the country's GDP figures were "man-made" and therefore unreliable. Mr Li went on to say that instead he concentrated on just three data points – electricity consumption, rail cargo volume and bank lending – when evaluating his province's economic progress.
Relying on too narrow an indicator can be misleading, however. During 2007, the economy of the Liaoning province was largely driven by heavy industry, and so it was very reasonable for Li Keqiang to look at these data. The structure of the Chinese economy has changed dramatically since 2007, with services now accounting for a much larger share of the economy than manufacturing.
In the wake of the coronavirus outbreak and the subsequent lock down by the Chinese authorities, analysts and investors have been poring over real time data for clues to the speed at which commodity demand and economic growth more broadly will pick up. Despite China's transition towards a more service based economy over the past 10-15 years analysts remain focused on the same old economy measures – coal consumption, its transport and pollution. The theory being that more coal consumption = more electricity generation = more economic activity = commodity demand growth.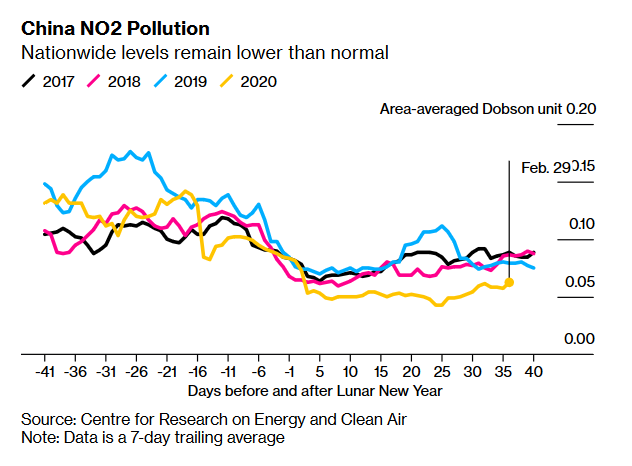 Encouragingly (at least from an economic growth perspective) they are all pointing up, albeit slowly. But just as Mr Li lamented the fictional nature of the country's GDP figures, data indicating activity a rebound in electricity demand may also be man-made' too. According to a a recent investigation by Chinese newspaper Caixin, local companies and officials are fraudulently boosting electricity consumption and other metrics in order to meet tough new back-to-work targets:
As new coronavirus cases in China slowed in recent weeks, local governments in less-affected regions pushed companies and factories to return to work, typically by assigning concrete targets to district officials. Company insiders and local civil servants told Caixin that, under pressure to fulfill quotas they could not otherwise meet, they deftly cooked the books.

Leaving lights and air conditioners on all day long in empty offices, turning on manufacturing equipment, faking staff rosters and even coaching factory workers to lie to inspectors are just some of the ways they helped manufacture flashy statistics on the resumption of business for local governments to report up the chain.

Electricity consumption data has regularly been used as a proxy for the business resumption rate when reporting to Beijing, and to the public.

The East China province of Zhejiang has been lauded as a prime example of the nation's industrial recovery from the coronavirus outbreak by China's top economic planner, which reported on Feb. 24 that its work resumption rate was more than 90%.

Nevertheless, a civil servant in one district of the provincial capital, Hangzhou, told Caixin that from Saturday plants were instructed to leave their industrial equipment idling for the whole day, while offices were told to keep computers and air-conditioners running, when Beijing began checking the resumption rate by examining power consumption figures….

…The district official pointed out China is further subsidizing electricity costs as a way to incentivize businesses to resume, and said many companies would rather waste a small amount of money on power than irritate local officials.
Instead of old economy indicators many have turned to real time traffic data from TomTom as a signal. This could, so goes the theory signal that workers are returning to work and consumers are taking to the shops.
Here's the chart for Beijing showing congestion levels for the past 7 days compared with the same period last year. Traffic is picking up but still much lower than 2019.
And here's Wuhan. Much, much lower than 2019.
Traffic data still needs to be taken with a hefty pinch of salt. First, congestion might have increased just because employees are incentivised to go to work, even if no work actually occurs. Second, the presence of checkpoints and roadblocks in many points in the city are likely to create the appearance of greater congestion.
Leaving a jacket on your chair, walking around the office purposefully with a notebook and sending out emails at odd hours are three of the best-known tricks for an employee to appear busy. In the same way leaving the lights on and the machines humming may trick the local civil servant. After a while all of this collective self-delusion gives the pretense of actual work, deceiving the analyst on the other side of the planet.
(Visited 215 times, 11 visits today)