According to data from the UN Food & Agriculture Organisation (FAO) global food prices have now risen for 9 consecutive months and are now at their highest level since 2014. The recent surge supported by a sharply higher prices for sugar, soy and palm oil as well as smaller increases in cereal, dairy and meat prices.
Strong demand from China is one of the main factors supporting the rise as it imports huge quantities of corn in order to rebuild hog herds decimated by disease. The pandemic has increased the vulnerability of agricultural supply chains as logistical bottlenecks and political decisions prevent become a barrier to trade. Adverse weather has also been a factor; cold weather in Northern Hemisphere cereal growing regions and rains in South America have cut into harvests and delayed planting.
Related article: Agflation is here to stay: How to play the agricultural commodity bull market
Food inflation affects nations unevenly. Poorer countries typically see consumers spend a higher proportion of their expenditure on food; an average household in Nigeria spends more than half of their budget on food. Food prices rise even more when an economies currency depreciates, as has been the case with Brazil.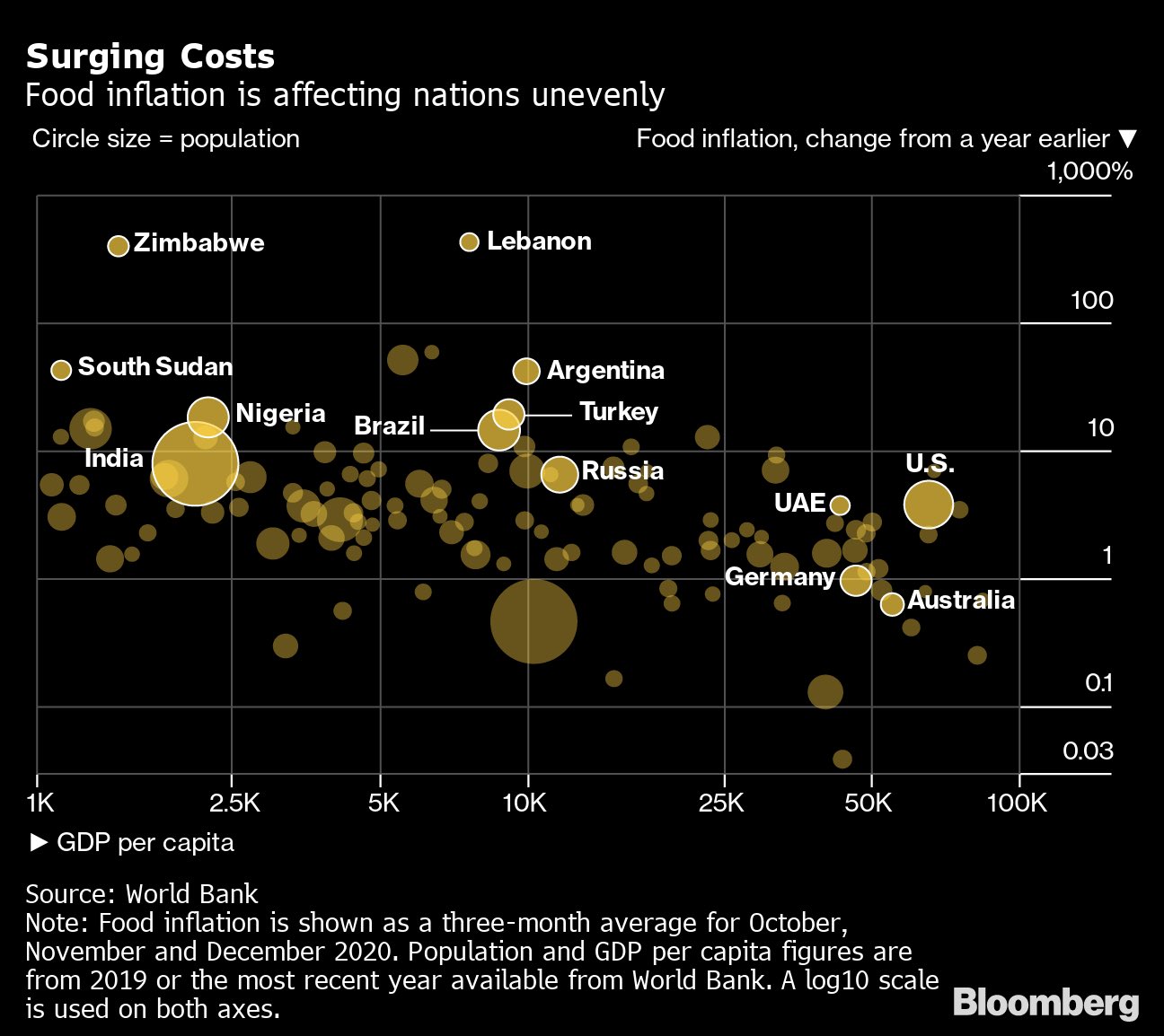 Many emerging economies are use to artificially low food prices, since governments seek to appease their populations against political reforms. Higher food prices soon wear thin with civilians if their government shows little sign that their concerns have gone unheeded.
In recent weeks food price anxieties have contributed to protests in Sudan, Lebanon and Tunisia. Higher food prices are thought to have been one factor (among many) that contributed to the Arab Spring uprisings. That ultimately led to an increased risk perception in the supply of energy (both oil and gas) from North Africa and the Middle East.
Meanwhile, efforts to reform India's agricultural system in the face of ballooning import costs led to protests by many of the nations farmers. As I've written about before the outcome of the Indian protests is about more than just food prices. If they serve to delay reforms then it could result in a slower buildup in energy and commodity demand over the next decade.
Related article: Indian energy and commodity demand on the verge of a generational turning point
Higher food prices as well as a cyclical buildup in price pressures later in 2021 are likely to result in significantly higher overall inflation rates. This may result in more restrictive monetary policy by central banks than would otherwise be the case, in turn reducing commodity demand growth.
(Visited 263 times, 3 visits today)