The copper market is one of only a handful of commodities to show a positive performance over the course of 2020. Since the corona virus nadir in April, copper prices have rebounded by almost 40% to $6,400 per tonne. Disruptions to copper mine output due to covid and expectations of higher infrastructure investment have supported the surge.
Over the next few years the market may consolidate as the final incremental mine supply comes to market following the 2011 boom. However, investment in 5G and electric vehicle infrastructure capacity will be a major boost to copper demand, coming just as the copper capital cycle is turning. That means higher copper prices.
Copper mine disruptions
Peru, the second largest copper miner, is taking longer than expected to ramp up mines after a two-month lockdown due to the spread of the coronavirus. Meanwhile, workers at two mines in Chile (the largest producer) voted to strike over wages.
The spread of the coronavirus in South America has resulted in copper mine operators in the two countries shutting down over 600,000 tonnes of production in order to contain the spread among workers and local communities (around 3-4% of global copper supply). Add in another 150-200,000 tonnes for other reasons and the prospect of further strike action in Chile and copper mine disruptions are on track to hit record levels in 2020.*
*Gold is a byproduct of many copper mines, and so the disruption to copper mines also increases the stock-to-flow of gold.
Related article: The gold stock-to-flow model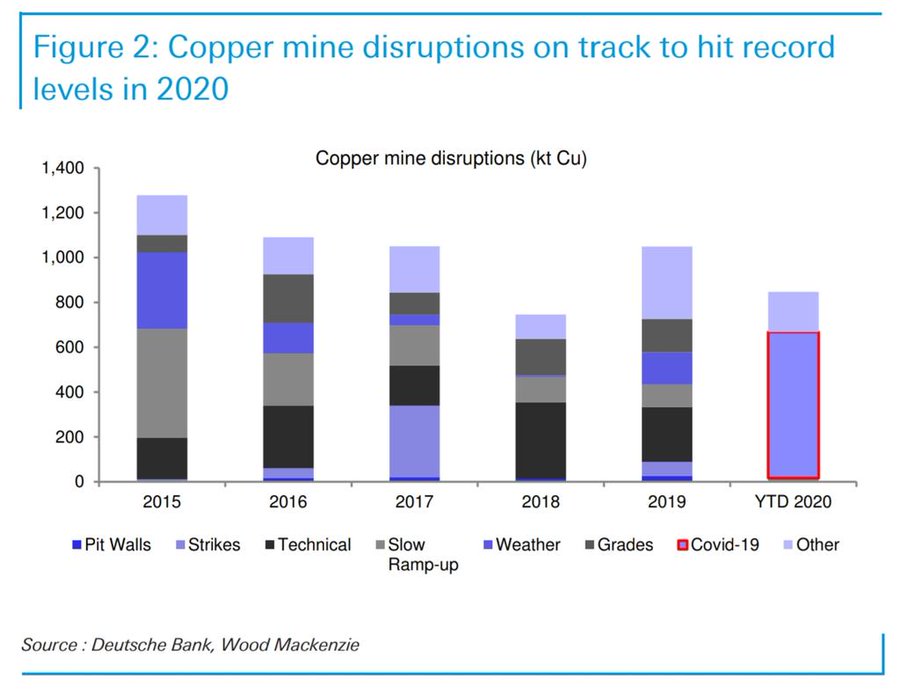 Chinese copper smelting activity signals strong demand
China accounts for 50% of global copper consumption – higher Chinese copper production can often be a good indicator that demand growth is strong.
While conventional economic data is too slow to capture recent trends, and survey data is too distorted by a sudden change to the baseline, satellite data can provide a much more timely indicator of real time production.
The Savant Global Copper Smelting Index measures capacity-weighted activity levels observed at around 90% of the worlds smelter sites using satellites. A reading of 50 indicates that current activity levels are at average levels. Readings above or below 50 indicate greater or lesser activity levels than average.
Activity monitored by satellites over China indicate that copper smelting activity has continued to expand since the beginning of May. While a number of smaller Chinese copper smelters appear to have closed down or mothballed their plants (possibly due to a recent squeeze on margins), the loss has been more than offset by higher output from larger facilities.
Chart: China activity dispersion index since July 2019 (weekly average)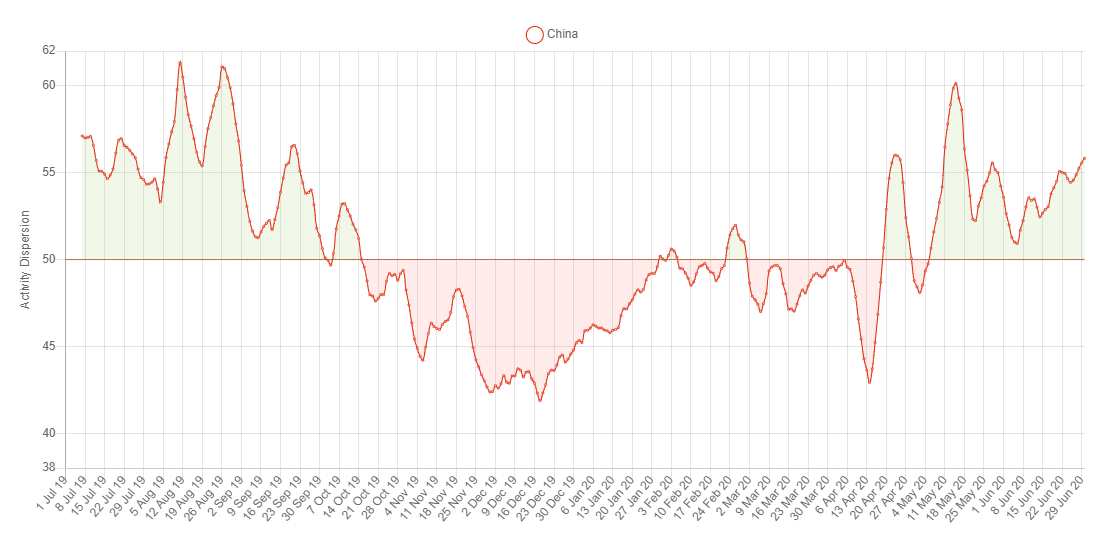 The sharp decline in Chinese copper social stocks to a 5 year also indicates that there is strong demand.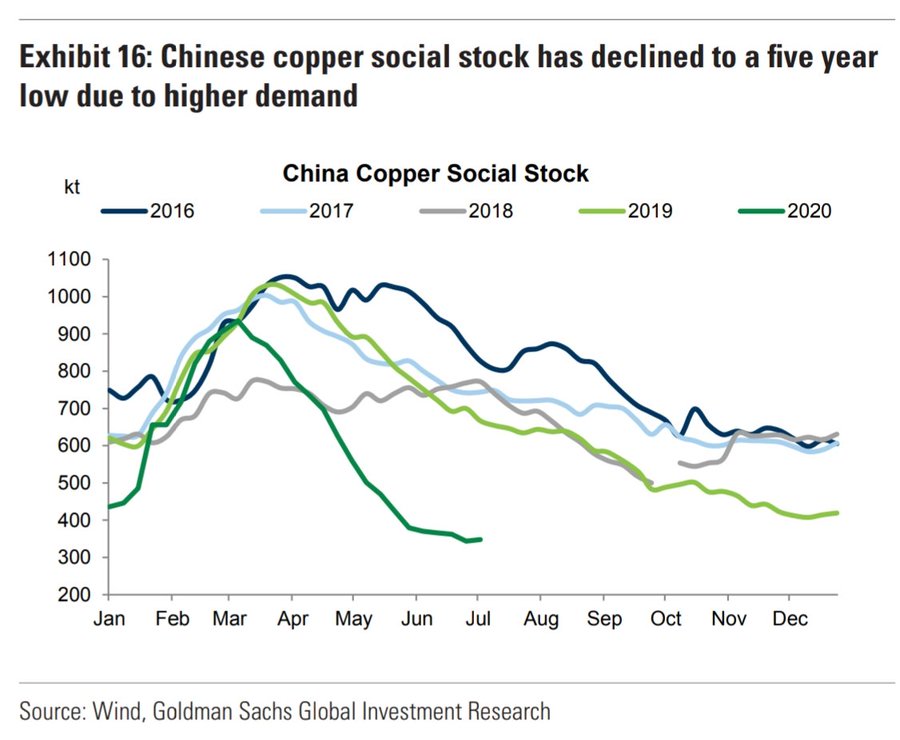 Infrastructure spending
I have written several posts about the potential for copper to benefit from higher infrastructure spending post COVID. One of the widely discussed topics has been the 'New Infrastructure' scheme that Chinese authorities put forward earlier this year. Although the scheme includes a big focus on 5G, AI and electric charging infrastructure, it also focuses on more conventional infrastructure like the power grid and high speed rail. In China as with elsewhere it will be the speed that 'shovel ready' projects can actually start that will be key to how quickly copper demand will see a boost.
Related article: It's time to build: Here's what that might mean for commodities
Unprecedented monetary stimulus and the easing of the dollar
The relationship between the US dollar and the copper price is far from stable. But over time at least a lower dollar tends to mean higher copper prices. The drop in the dollar since the end of May has been a strong tail wind for copper.
But we're probably now at a make or break point. While many of the technical indicators and very long-term trends point to a much lower dollar over the course of the next decade there is a risk that at least in the near term the dollar soars higher.
Copper prices are also heavily influenced by Chinese monetary conditions. China's credit impulse – a measure of the changing growth rate of credit relative to the size of the economy – tends to lead copper prices by around 18 months. This time though copper prices appear to have moved much faster, perhaps indicating that there is less upside potential.
All the extra monetary and fiscal stimulus combined with supply-side restrictions has many people concerned that significantly higher levels of inflation will start to appear. It's worth noting that gold and other precious metals are not the only game in town. Indeed during the period 1992 to 2016 copper prices rose 3 times more than gold when US inflation started to rise.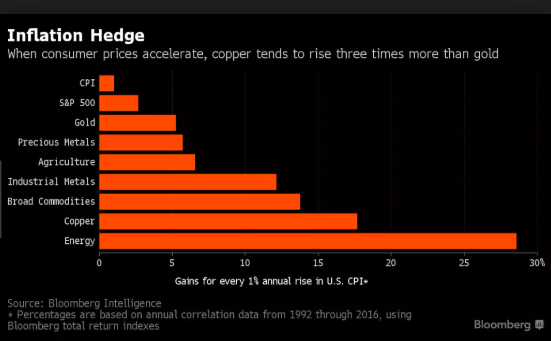 Trend resistance a barrier to further gains
The price of copper has bounced off this long-term trend line from 2011 yet again. For now at least the copper price has been driven higher by covid related disruptions to mine supply and expectations of a boost to copper demand from infrastructure spending. The market is going to want to see that narrative reinforced before it moves higher through that trend line resistance.
I would fade this move in #copper as it approaches 3.00 and look for a meaningful pullback to at least 2.88. Coming into horizontal resistance, long term falling trend line resistance, and RSI is at 84. Needs to cool off. $HG pic.twitter.com/6dkNsipEja

— Tarek I. Saab (@FibLines) July 13, 2020
Hedge fund net-long positioning in copper reached a 13 month high due to concerns that supplies in South America would be curtailed by virus and strike related shutdowns. That being said positioning is no where near as stretched as we saw in late 2016 and into 2017.
The longer term capital cycle
Much of what I've covered so far includes the short-term and typically focuses on the demand side of copper market. While less visible it is typically much easier to predict, but only really has power for long-term investors with the patience to take advantage of it.
Research examining centuries of commodity price data has tended to sketch a pattern of 15–20 year super-cycles (a period of rising prices), followed by a slide in prices over the following 10–15 years when excess investment leads to a flood of supply. On this basis investments in new mine supply as a result of high copper prices in the period 2006-2013 are still boosting copper mine supply growth.
However, copper mine supply growth has been erratic. While some countries have been strong performers, others have disappointed. According to BMO, Peru has been the single largest driver of growth on both a five and fifteen year view, followed by the Democratic Republic of Congo. Notably, Chilean output has been essentially flat between 2004 and 2019.
Part of the reason for this is the higher degree of capital intensity required to bring these mines to market. This means that the incremental projects are on average of a lower grade, higher in infrastructure requirement and more challenging from an environmental and jurisdictional risk perspective than existing copper mines.
Meanwhile, many of the long-life copper mines are operating below their capacity and are coming to the end of their useful productive abilities. Roughly ten mines per annum are coming to the end of life through the middle of the 2020's, which combined account for almost half of current supply volumes.
Related article: What I learned from "Capital Returns: Investing Through The Capital Cycle", by Edward Chancellor
Related article: Copper prices: The top 10 most important drivers
(Visited 166 times, 6 visits today)