Iron ore is the second most important global commodity behind oil. Despite its status the market tends to get very little attention. Changes in the underlying price of the ore has a significant impact on the revenue of the mining giants. It would be a mistake for investors to ignore the lore of ore.
Seaborne iron ore prices hit a 6 year high in late August of over $130 per tonne. The 30-40% increase in iron ore prices since the start of 2020 has lifted iron ores share of steel costs to an all-time high. Iron ore prices have surged as Chinese port stocks have dropped sharply, production difficulties in Brazil and the prospect of surging infrastructure demand for steel.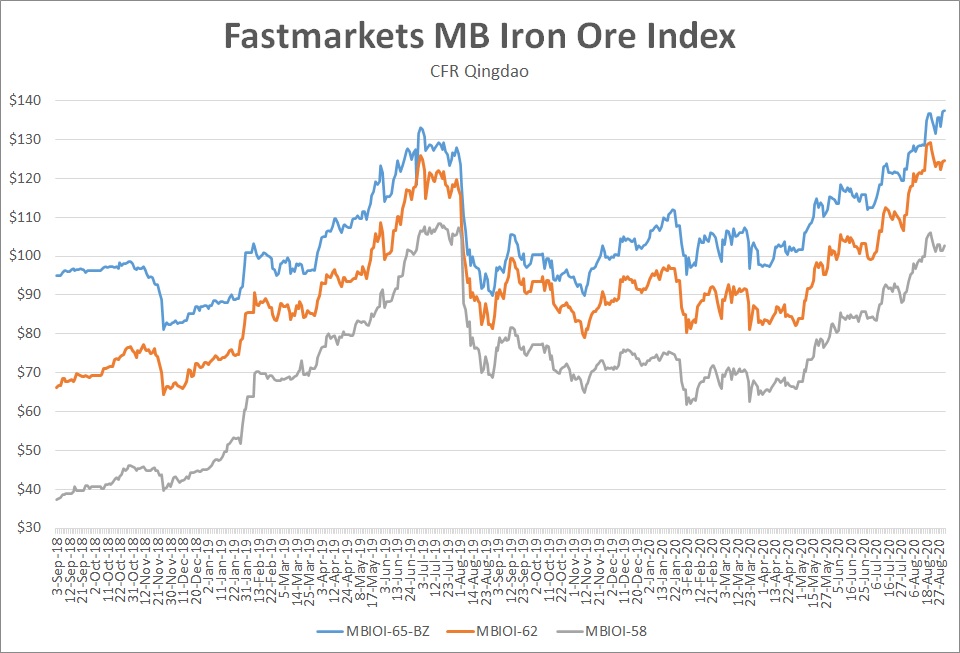 Chinese imports of iron ore during the first 8 months of 2020 are already up 11% versus the same period in 2019. Despite the coronavirus (or perhaps because of it) imports show no sign of diverging from their longer term trend.
The increase in imports has in part been driven by domestic supply problems. Reduced supply of scrap steel has limited the use of electric arc furnaces and increased the reliance on iron ore to produce steel. The primary driver has been an increase in stimulus measures aimed at encouraging greater infrastructure and construction activity.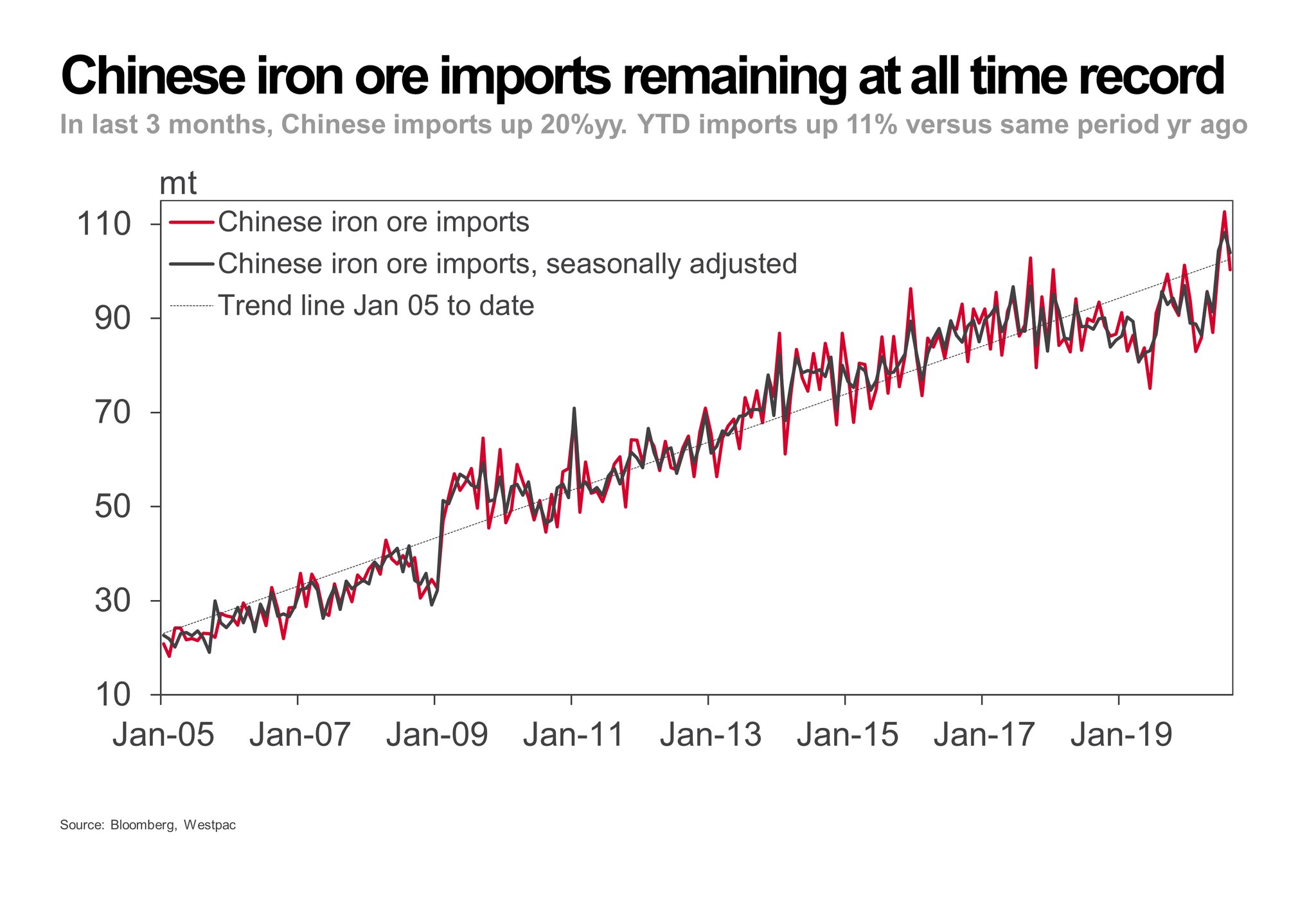 Related article: It's time to build: Here's what that might mean for commodities
Iron ore prices have been supported by fears over supply disruptions from Brazil, one of the key suppliers to China (the others being Australia and India). Coronavirus outbreaks have plagued its mining regions. As cases spiked during April and into May so did the price of iron ore.
Meanwhile, the Brumadinho dam disaster in early 2019 has also curtailed supply. Widespread stoppages occurred at other mines in southern Brazil due to wet weather. All told its been another case of a massive hit to supply at the same time as demand has rebounded sharply.
Domestic Chinese iron ore mines tend to be the most expensive and so are on the far right of the cost curve. With prices around $120-$130 per tonne that means even Chinese miners may be able to break a profit. High prices may mean that Chinese miners begin to increase output, but relative to seaborne iron ore they are very uncompetitive and so are unlikely to play anything more than a minor role in balancing the market.
Up until the end 2018 movements in the price of iron ore have been matched by the Aussie dollar (AUD/USD). Australia continues to be one of the two main suppliers of iron ore to China and the commodity is Australia's single largest export and foreign exchange earner. Although the Aussie dollar has rebounded from its COVID induced lows it remains low relative to the price of iron ore.
The lack of any significant appreciation in AUD may indicate that the surge in iron ore prices is unsustainable. Or it may just represent the breakdown in the trading relationship between Australia and China. If that gets worse then it may mean China increases its dependence on Brazil and other major producers.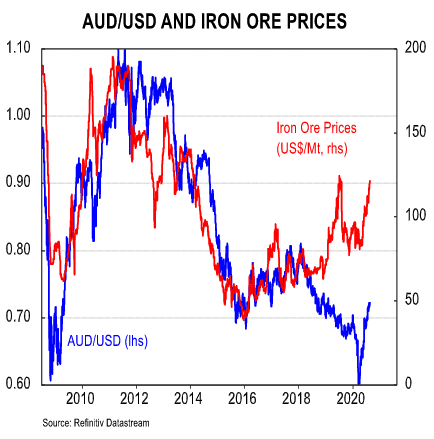 Iron ore prices (shown in black in the chart below) tend to be correlated but show much greater seasonality then finished steel prices. Iron ore prices tend to rise in the Chinese summer and winter ahead of peak construction periods in the autumn and spring. If the relationship continues to hold then the next couple of months may see iron ore prices weaken ahead of a rebound later in the fourth quarter.
High iron ore prices are typically a boon to mining giants like BHP and Rio Tinto. The latter previously said that an extra $10 per tonne of iron ore generates an additional $2 billion in free cash flow. Despite high iron ore prices the UK share price of both companies is almost unchanged year-to-date (+/- 5%). These mining giants are exposed to other commodities and so are not a true bet on the price of iron ore. The purest play on the price of iron ore is Fortescue Metals Group, listed on the Australian Stock Exchange. Since the start of the year its share price is up over 70%.
Overall then the iron ore market has been caught between heavily restricted supply conditions in one of its major suppliers. coupled with a surge in demand from its main consumer. Seasonal trends might point towards a weaker iron ore price over the next couple of months but with further stimulus likely in China over the next six months and an inflexible supply side then iron ore prices are likely to remain strong going into 2021.
(Visited 91 times, 26 visits today)