Two headlines caught my eye recently that demonstrate the power of sentiment in commodity markets. If you read my post from June (What headlines are telling us about sentiment in commodity markets) you'll recall that headlines in the media (and especially in the financial media) tend to confirm what we already know, once a trend has been firmly established and often extrapolate that trend into the future.
The two headlines are from the FT and the BBC and both relate to the market for palladium. To recap, from a low of $470 per oz in early 2016 the price of palladium has more than tripled over the past three and a half years to almost $1700 per oz.
The first article ("There's no end in sight for soaring palladium prices" – 2nd Oct, FT) notes the fundamental factors in support of the palladium price but the headline suggests that there is no end to the palladium price boom. Just as with headlines that suggest it can only get worse this headline suggests that bullish sentiment is ripe for a reversal.
The second article ("Huge rise in catalytic converter thefts" – 20th Sep, BBC) brings it home to the average car owner that although they may feel safe driving round in their SUV, in fact they are showing off to potential thieves that they have something that has tripled in value. When the impact of high prices starts to register with the end consumer it can be a sign that demand will start to wane.
The long term palladium chart looks stretched with prices well above the 50 and 200 day moving average while there are signs of a negative divergence that could indicate a sharp correction is close.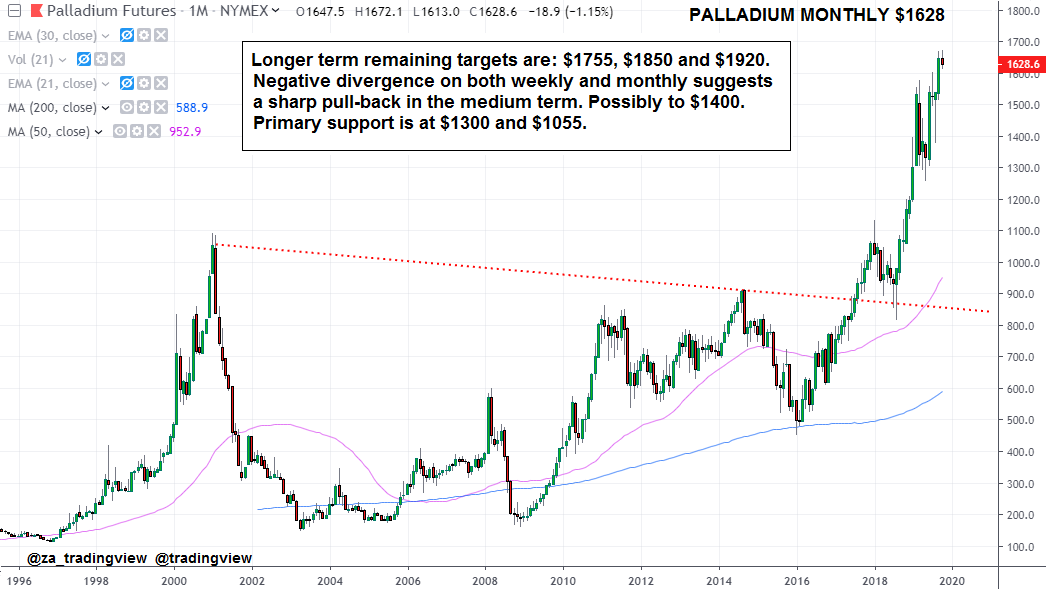 Investment bank UBS sees further upside in the coming months but with an increased risk of sharp corrections:
"We see further price upside over the coming quarters, but performance will likely continue to be volatile with large price drops possible – as already experienced twice this year. Such corrections could be caused by renewed risk-off events and/or sales from Russia's Nornickel Global Palladium Fund (GPF). It remains unclear how much metal the GPF still holds, however. Declining ETF holdings – which were used to cover the market deficits and are now at the lowest level since 2008 – suggest that above-ground inventories are quickly dwindling"
One of the oldest sayings in commodity markets is that the cure for high prices is high prices. It is exceedingly is rare for any commodity to remain this far above its long-term average for so long especially one where sentiment is so stretched.
Related article: Palladium prices: The top 10 most important drivers
(Visited 74 times, 2 visits today)