Commodity market analysis tends to start with the demand story. That suits the narrative that most investors are willing to delve deeply enough to understand. I'll get to the compelling demand story later, but for this article I'm going to start on the supply-side. You see, this commodity exposed market is likely to experience such constrained levels of supply growth that it only needs a marginal increase in demand to send prices (freight rates in this case) significantly higher and remain there for a prolonged period.
According to ship research firm Cleaves, dry bulk tonnage on order represented just 5.6% of on-the-water tonnage, the lowest since 1996 and compares with an historical average of 24.2%. In comparison the ratio is 8.6% for oil tankers, 17.2% for liquefied petroleum gas (LPG) carriers and 23.2% for liquefied natural gas (LNG) carriers 23.2%. There are a number of factors behind this structurally constrained supply outlook.
The first factor behind the supply constraint is technological uncertainty related to upcoming environmental regulations. All ship carrier owners (oil , LPG, LNG, container and dry bulk) will have to meet stringent decarbonisation standards in coming years, coupled with the inclusion of shipping in the European and other carbon trading schemes. The propulsion system on a dry bulk carrier is a much larger proportion of the cost, and so the technological risk involved is much greater.
The second factor underpinning the supply constraint is the expense of building new ships. Layered onto this cost is the potential for delays in delivery given the strong order book from other shipping segments (especially container ships) who have placed their orders ahead of the dry bulk fleet. This will constrain shipyard capacity, in turn increasing the pricing power of the shipyards.
The third factor has been the impact of COVID on the efficiency of the current fleet of dry bulk carriers. For example, ships must be at sea for 14 days from their last port before they are allowed to call at an Australian port. This has been in place since early last year to limit the spread of Covid-19 in the country. But it also means that ships must spend extra time (~24 days, up from 20 days pre-2020) waiting to unload. This in turn has reduced the supply of ships available at any particular time.
What about the demand story? China accounts for around 40% of overall seaborne transportation of dry bulk commodities, ranging from ~20% for coal and grains to over 70% for iron ore. China's appetite for iron ore to manufacture steel has an out-sized influence on the dry bulk market.
Chinese steel production is estimated to have increased by 9.1% in 2020. Production grew 15% year-on-year in the first quarter of 2021, although of course that factors in the base effects of COVID's emergence one year ago. Annual growth is forecast to slow to 3% in 2021 and 1% in 2022, according to World Steel.
Historically, Chinese iron ore imports have increased by around 5% per annum with Australia and Brazil the major suppliers able to cater to this demand profile. However, since 2017, iron ore export growth from these two countries has stagnated; due to the Vale dam collapse and other logistical challenges in Brazil and the political standoff between China and Australia. India and some other countries have stepped in to fill the gap. Exports from these two countries are likely to rebound in coming months as production and export issues are resolved, in turn increasing demand for the capesize vessels that carry major dry bulk commodities such as iron ore.
Going forward through the rest of the year and into 2022, demand growth for steel is thought likely to become more widespread as infrastructure spending projects ramp up. World Steel projects developed economy demand will grow by 8.2% in 2021 and 4.2% in 2022. Other developing economies (excl. China) are also expected to see a sharp increase in demand, by 10.2% in 2021 and 5.2% in 2022.
Grain shipments are also an important demand driver for dry bulk carriers; accounting for 13% of global dry bulk shipping demand, of which China accounts for a fifth. According to S&P, Chinese demand for grains during 2020/21 (which started in October) is expected to increase by over 50% versus levels seen in 2018/19. Import gains are supported as China builds up their grain reserves, after depleting them as they attempted to build back their pig herd after the Asian Swine flu epidemic.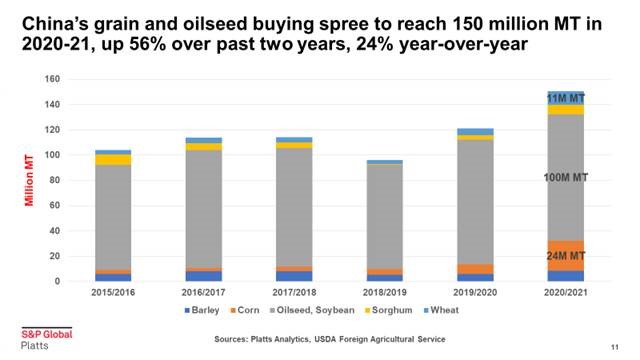 What about coal? Coal accounts for about 17% of global dry bulk vessel use, with China accounting for one-fifth of that demand. Despite the protestations of its leaders, China continues to be heavily dependent on burning coal for generating electricity. Front and centre of the minds of its leaders will be security of supply. The winter just gone was so cold that cities suffered frequent power cuts – something they will be keen to avoid risking for next winter. According to the IEA, global coal demand will rise 4.6% in 2021, with its use by developing countries, and China in particular pushing it above the 2019 level.
Related article: Why the biggest dust storm to hit China in a decade may choke the coal market this winter
Related article: King coal fights back: Why coal's place as a dominant fuel source is unlikely to be relinquished
As I've outlined, the supply of dry bulk ships is currently structurally constrained and supply growth is likely to be meager at best going forward. At the same time demand from the main consumer (China) and for the main cargoes (iron ore, grains and coal) appears to be robust. In such an environment it only takes a small increase in demand to send freight rates soaring, and remain high for a long period.
"…the most durable and powerful commodity bull markets are those built, not on rapidly rising demand, but on structurally constrained supply." – Marathon Resource Advisors
It's fair to say we've already seen a strong reaction from dry bulk freight rates. The Baltic Dry Index (BDI) jumped to 2750 this week, its highest level since October 2010. The BDI tracks freight rates for capesize, panamax and supramax vessels ferrying dry bulk commodities, taking account of 23 different routes.
Freight rates for those vessels that make up the BDI have started the year off strongly, and in the case of panamax and supramax rates are more than double the 5 year average
Historical trends in the BDI suggest that while rates could enter a weaker period during June-August, rates are typically higher entering the third quarter and into the fourth quarter – typically the time of strongest demand for coal and iron ore from China.
Related article: The Baltic Dry Index is a lousy predictor of commodity prices
Here's where things get interesting. The share price of the largest two US listed dry bulk carriers (Golden Ocean and Star Bulk) are up 75% and 100% respectively since the start of 2021. Although the gains have been steep across these and other dry bulk equities, in general they are still ~75% below the levels they were back in 2014, despite higher freight rates today.
Related article: Pay attention to what others neglect
(Visited 1,121 times, 16 visits today)